Arranging of Tourist Infrastructure by Sioni Monastery Complex in Ateni Village Finishes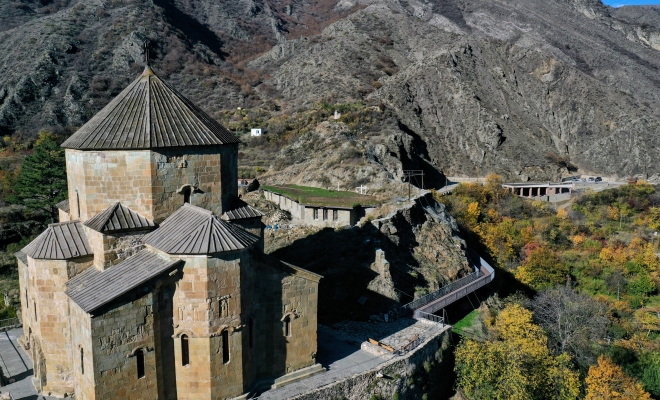 The Municipal Development Fund (MDF) of the Ministry of Regional Development and Infrastructure of Georgia (MRDI) has completed arrangement of tourist infrastructure at Sioni Monastery Complex in Ateni Village of Gori Municipality.
The project implementation was backed financially by European Investment Bank (EIB) and its cost amounted to approximately GEL 1.3 million.
The project provided for arrangement of pedestrian path, public WCs and construction of the parking lot.
The number of domestic and foreign tourists and pilgrims to Sioni Monastery Complex is on the increase on a constant basis, whilst the infrastructure at the Monastery failed to meet the demand increased. The project implementation resulted in regulating the tourist infrastrucutre throughly that is to create favourale conditions for tourism development region-wide.
The works were commenced in September 2019 and were completed in November, 2020.
Executive Director of MDF Giorgi Shengelia along with the Director General of National Agency for Cultural Heritage Preservation of Georgia - Nikoloz Antidze and Acting State Representative to Shida Kartli - Simon Guledani visited the site and were familiarized with the works accomplished.