The MDF Arranged Ancillary Infrastructure in the Shelter for Homeless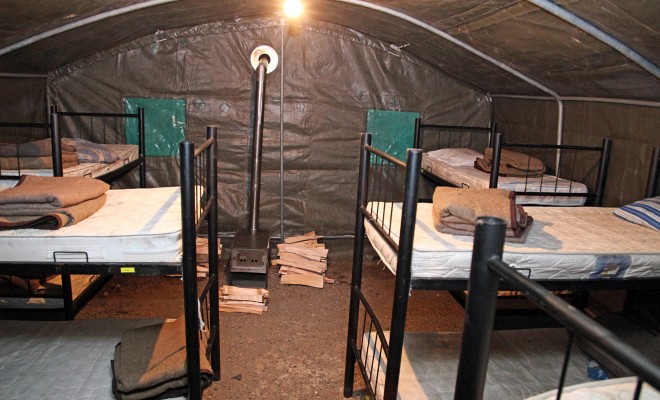 Late at night arrangement of ancillary infrastructure was completed in the shelter located on Moscow highway. The Municipal Development Fund of Georgia has set up cottages, where the first-aid post and kitchen will be accommodated. Utility cores will be installed as well.
The first dweller entered the shelter at 2 a.m. Throughout the night, emergency groups of the Ministry of Infrastructure and Regional Development of Georgia, employees of the Patrol Police and Emergency Situation Management Center were mobilized on-site.

Currently there are 4 living tents erected for homeless, which may accommodate 80 persons. The tents are equipped with wood stoves, beds, mattresses, plaids and electric power. An 80-seat tent was placed in the same area, which will serve as a canteen.

The Ministry of Infrastructure and Regional Development, the Ministry of Defense, the Ministry of Internal Affairs, the Ministry of Finance, the Ministry of Economy and Sustainable Development, the Ministry Health, and the Chancellery of the Government of Georgia are actively involved in the shelter arrangement process. The Rescue Service and the Emergency Situation Management Center are mobilized.