MDF presents Report for 2022 to Parliament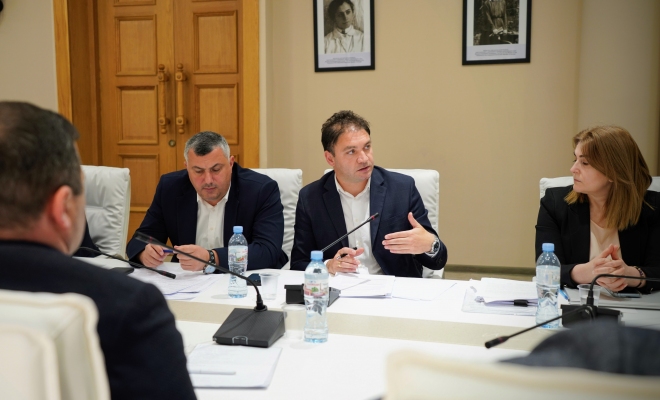 Executive Director of Municipal Development Fund (MDF) of Ministry of Regional Development and Infrastructure of Georgia (MRDI) Davit Tabidze presented Report for 2022 to the session of Regional Policy and Self-Governmental Committee of the Parliament of Georgia
Executive Director talked about current significant infrastructural programs of MDF, such as infrastructural programs in fields of education, tourism, sports, urban upgrade and water supply. Mr. Tabidze familiarized the members of the Committee with the detailed information on the "Upgraded Regions" Program, initiated by Prime Minister of Georgia.
Within that program, the first stage works have been actually accomplished in 50 municipalities of the country, whereas the second stage undergoes implementation in 19 municipalities of Georgia.
Within the first stage of "Upgraded Regions" Program, 727 buildings underwent full refurbishment by applying of energy efficient material. The pedestrian paths, sidewalks, engineering networks were regulated and 92 parks and squares were refurbished and arranged as well.
There was arranged the new boulevard of one km length in Kobuleti. This year, MDF has commenced the new program of kindergartens construction which provides for construction and refurbishment of 885 kindergartens countrywide. The kindergartens construction-refurbishment program will be executed into several stages and GEL 1.3 billion in total out of the state budget, will be spent on that. GEL 100 million has already been considered for the first stage works under the budget of 2023.
At the first stage, MDF is to announce the biddings for construction of 135 new kindergartens and refurbishment of 100 ones. The process of announcing the biddings has started since March, 2023 and biddings for over 100 kindergartens have been announced as of to date. Tentative cost of that biddings amounted to GEL 300 million. The biddings identified winner companies for 19 kindergartens and the Contracts were signed, whereas the evaluation procedures are underway for 12 kindergartens.
On top of that, on the initiative of Prime Minister of Georgia, MDF is to commence "Development of Cities and Resorts" Program. The Program provides for development of areas of cities and resorts, and upgrading of their external appearances so as to enhance their potential significantly and create the new centers of attraction.
Borjomi, Bakuriani, Kutaisi, Tskaltubo, Telavi, Zugdidi, Batumi, Mtskheta, Stepantsminda, Mestia and Kazbegi Municipalities – these are 11 locations selected for the first stage of the program.
The new program is to cover 5 years and GEL one billion from the state budget will be spent on that.