Irakli Karseladze Meets UEFA Delegation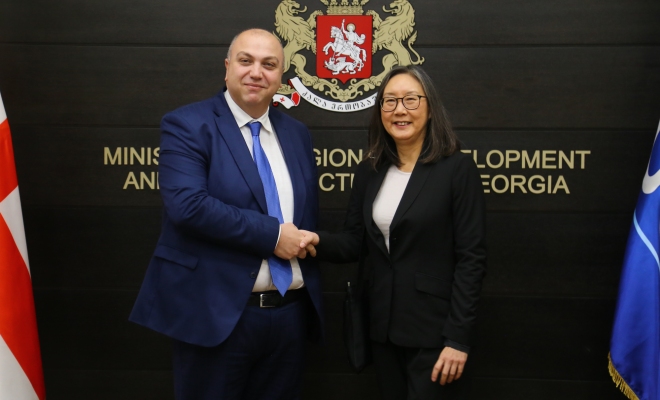 The Georgian Minister of Regional Development and Infrastructure, Irakli Karseladze, together with Levan Kobiashvili, the President of the Georgian Football Federation, held a meeting with the delegation of the Union of European Football Associations (UEFA). At the meeting, the process of preparation for the European Championship of under-21 teams in Georgia was discussed. It is noteworthy that Georgia will be hosting the championship from June 21 to July 8 this year.
UEFA's special team included UEFA Operations Director Sharon Burkhalter-Lau, UEFA chief tournament and event planning division Peter Nordenstrom, U21 project manager Betina Gressel and special consultant Louis Silva.
UEFA representatives, together with the championship organizing group members and the leadership of the Football Federation, visited Kutaisi Ramaz Shengelia Stadium and Mikheil Meskhi Stadium in the Georgian capital, Tbilisi. At the end of the visit, the guests met the Minister of Regional Development and Infrastructure of Georgia, Irakli Karseladze and informed the meeting participants in detail regarding the progress of sports infrastructure rehabilitation works achieved by the Municipal Development Fund in Tbilisi, Kutaisi, Tskaltubo, Kobuleti and Batumi.
It was noted that a number of state agencies are involved in preparation for the championship, and the process is proceeding as planned. The parties of the meeting discussed time-schedule for all stadiums and noted that they would continue cooperation in strong partnership mode.
UEFA representatives rated the progress of works highly and expressed hope for the successful completion of all ongoing works.
Persons in attendance were Giorgi Tsibadze, First Deputy Executive Director of the Municipal Development Fund, the Secretary General of the Georgian Football Federation, David Mujiri, Head of the Logistics Department of the Ministry of Culture and Sports Giorgi Botsvadze, and Head of the U21 Project Irakli Nakaidze.
In order to respectably host the UEFA European Under-21 Championship in Georgia, the MDF commenced works for rehabilitation of sports infrastructure in Tbilisi, Kutaisi, Tskaltubo, Kobuleti and Batumi under the "Sports Infrastructure Development Program". For the benefit of the Championship, 10 infrastructural facilities are to be arranged in all, in addition to the existing ones.
Total cost of the state budget-funded program amonts to GEL 100 million.
Currently, the rehabilitation works are underway at Ramaz Shengelia Stadium in Kutaisi, Boris Paichadze (Dinamo) Stadium in Tbilisi, Mikheil Meskhi Locomotive Central and Spare Stadium, David Petriashvili and Basa Stadiums. Besides, new football stadiums are being built in Batumi, Kobuleti and Tskaltubo. Construction and rehabilitation of stadiums are carried out with UEFA involvement and monitoring.