Mikheil Meskhi Stadium Rehabilitation in Active Phase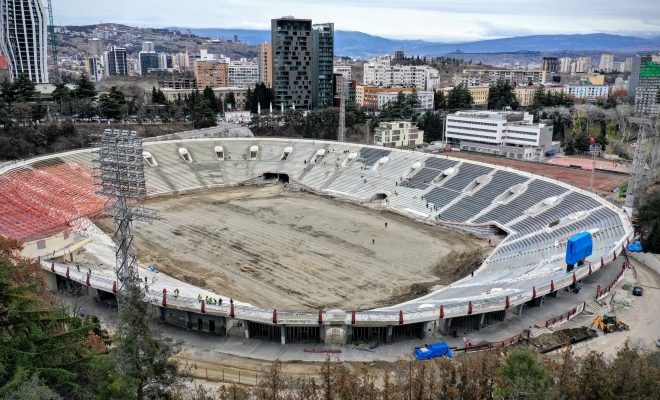 The Municipal Development Fund of the Ministry of Regional Development and Infrastructure of Georgia is carrying out works for full rehabilitation of Mikheil Meskhi Stadium. The project is funded from the state budget with GEL 21 million.
In order to respectably host the UEFA European Under-21 Championship in Georgia, the MDF commenced works for rehabilitation of sports infrastructure in Tbilisi, Kutaisi, Tskaltubo, Kobuleti and Batumi under the "Sports Infrastructure Development Program". For the benefit of the Championship, 10 infrastructural facilities are to be arranged in all, in addition to the existing ones.
Total cost of the state budget-funded program amonts to GEL 100 million.
Under the Program, the MDF has already initiated design and rehabilitation works for Ramaz Shengelia Stadium in Kutaisi and Mikheil Meskhi Locomotive Central and Alternate (Meskhi 2) stadiums in Tbilisi. Besides, works have been commenced for construction of soccer stadiums in Batumi -2, Kobuleti -1, Tskaltubo – 1, and rehabilitation of Davit Petriashvili and Basa stadiums located in Tbilisi.
Any day now, the project is to be launched for rehabilitation of Boris Paichadze (Dinamo) stadium in Tbilisi.
Stadium construction and rehabilitation works are underway with involvement and monitoring by the UEFA.