Finalization of Lanchkhuti Central Square Refurbishment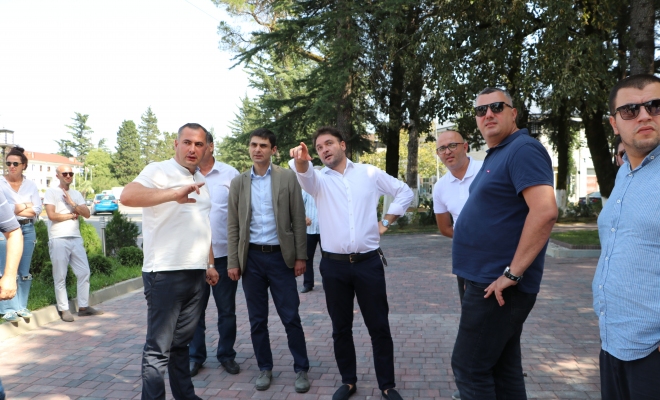 Refurbishment of Lanchkhuti Central Square within the "Renovated Regions" Program, initiated by Prime Minister of Georgia, has been finalized.
12 buildings located on the main square of the city and the central square, covering the area of 13 000 sq. m, have undergone full refurbishment. The works included the adjacent site paving, landscaping, and arranging of sidewalks and parking zones.
The accomplished work site of Lanchkhuti Central Square was visited by MDF Executive Director David Tabidze, First Deputy Executive Director of MDF Giorgi Tsibadze and the State Representative to Guria Giorgi Urushadze.
MDF of Ministry of Regional Development and Infrastructure of Georgia (MRDI) executes the rehabilitation works within the "Renovated Regions" Program in Ozurgeti and Chokhatauri too.
Refurbishment of the buildings, located on the main square of the city and of the nearby site, is at final stage of its execution.
The first stage works of the program are to be finalized in Chokhatauri soon. 8 buildings on Dumbadze St., as well as the sidewalks, lawns and 3 squares (so called Krimanchuli, Ramishvili and Dumbadze Parks) have been renovated already. As for refurbishment-reconstruction of the central square of the city, the project considers arranging of the central park, covering 4 000 sq. m on the square, throughout which spaces designated for recreation and other activities, as well as the parking lots, paths and facilities to serve tourists, will be located.