Opening of Kobuleti New Boulevard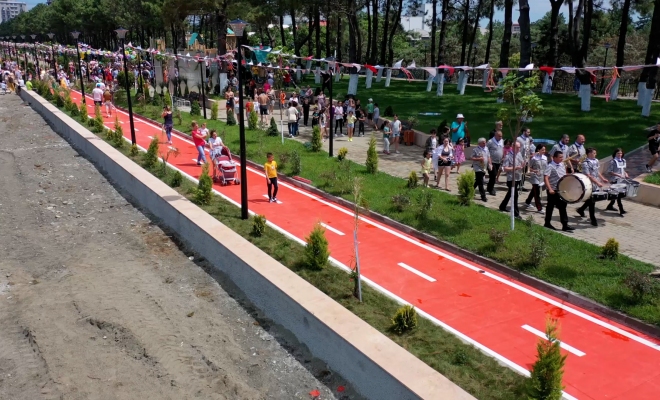 Rehabilitation-accomplishment works for the new boulevard of up to 1 km length in Kobuleti have been finalized within the "Renovated Regions" Program, initiated by Prime Minister of Georgia.
Minister of Regional Development and Infrastructure of Georgia Irakli Karseladze and Chairman of the Government of the Autonomous Republic of Adjara Tornike Rizhvadze have officially opened the Kobuleti New Boulevard today.
The rehabilitation and accomplishment works of the Kobuleti coastline were commenced in summer 2021within the "Renovated Regions" Program. The cost of works amounted to GEL 8,100,000.
As per the project, the boulevard over the coastline of up to 1 km was arranged from Achkva to Kintrishi Rivers. The dividing wall was built up, bike lane of 2.5 m width and pedestrian path (pathway) of 4 m width were arranged throughout the length of the boulevard. There were arranged the recreational and commercial zones in the vicinity of the pathway. There were arranged the amusement rides in spaces designated for children-entertainment, whereas the sand volleyball and football pitches were arranged within the sports zone. There were constructed the adapted WCs in the new boulevard, while the pedestrian bridge to be connected with the old boulevard was also built up.
Up to finalization of works, the coastline of the new boulevard had been useless for the holidaymakers. The local residents as well as the resort visitors will now be able to make use of the boulevard, renovated and accomplished in compliance with the modern standards.
The first stage works of the "Renovated Regions" Program are at final stage in 63 municipalities of the country. Over 500 buildings and up to 80 parks and squares undergo rehabilitation. Within the works, the doors and windows of the buildings were replaced with the new stained glasses of isopropyl, energy efficiency component was intensified through thermal insulation, and nearby pedestrian zones were also regulated; squares were landscaped, irrigation system was arranged, amusement rides for children were arranged, etc.
The 4-year "Renovated Regions" Program was commenced in 2021, as per initiative of Prime Minister of Georgia. The projects to be implemented within that program were selected by direct involvement of municipalities. The tentative cost of the first stage works of the program amounted to GEL 500 million. The second stage works of the program have already started in some of the municipalities.