New Boulevard Arranged in Ureki Borough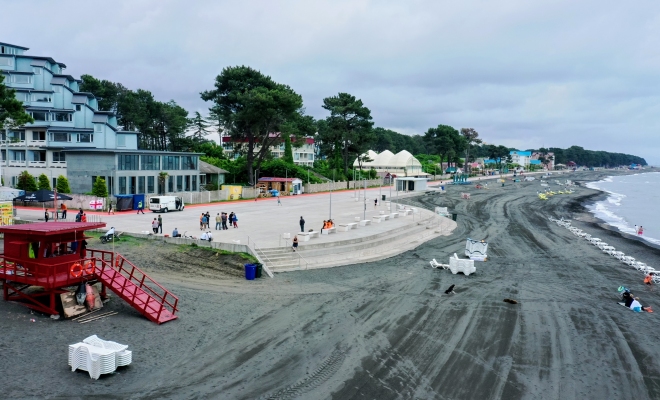 The Municipal Development Fund (MDF) of the Ministry of Regional Development and Infrastructure of Georgia (MRDI) has finalized arranging of the boulevard and improving of adjacent central streets of Ureki Borough in Ozurgeti Municipality. The project execution was backed financially by the Government of Georgia (GOG) at the cost amounting to about GEL 3.1 million.
The First Deputy Executive Director of MDF Giorgi Tsibadze, and Director of Solid Waste Management Company of Georgia (SWMCG) Giorgi Shukhoshvili visited the renovated boulevard, alongside with the representatives of local authorities.
The construction works for the boulevard of Ureki Borough in Ozurgeti Municipality, were to include reconstruction of the central entrance to the boulveard, arranging of the pedestrian path, main square in the vicinity of the central entrance, as well as of the small square, thorough dismantling of WCs and arranging of the new ones. Takaishvili Street and the exits linked with the boulevard underwent reconstruction too. There were arranged the small architectural shapes and boulevard inventory, together with the playground for children and spaces, designated for sporting activities.
Outdoor lighting was installed, and bike lanes, small squares and spaces for open cafés of seasonal nature and for commercial facilities were also arranged on the boulevard site.
Maintenance of Guria coastine is carried out by SWMCG on a daily basis, what the associated machinery (including beach tech) has been mobilized for. Up to 180 locals have been employed to date to regulate and clean the coastline.
The Guria coastline is ready to ensure hosting of tourists in the comfortable and well regulated environment.