"Renovated Regions" Program funded Projects in Gurjaani to Finalize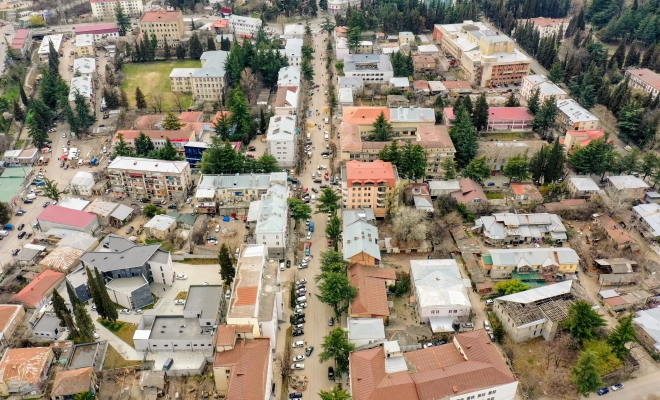 The infrastructural projects in all eight Municipalities of Kakheti Region undergo implementation by Municipal Development Fund (MDF) of Ministry of Regional Development and Infrastructure of Georgia (MRDI) under the "Renovated Regions" Program, initiated by Prime Minister.
Refurbishment of 21 buildings on Ninoshvili St. and of so called "Papa's Bagi" (Grandpa's Garden) and "Bebo's Bagi" (Granny's Garden) in Gurjaani Town at the cost of GEL 5.5 million under that program, are at the finalization stage.
The First Deputy Executive Director of MDF Giorgi Tsibadze along with the representatives of the local authorities visited the site of current works.
Within the program-funded projects, power efficiency component strengthening of buildings was executed, doors and windows of buildings were replaced that is to have further positive impact on heating costs of that buildings. The works for arranging of street sidewalks, lighting, and recreational spaces were conducted as well.
The 4-year "Renovated Regions" Program covers 63 Municipalities of Georgia and tentative cost of its first stage only amounts to GEL 500 million. The program provides for urban renovation of regions implying development of state and municipality owned significant facilities and the ones being under private ownership.
Upon program finalization, the central streets of regions throughout the regions of the country will be renewed, and the new squares and other municipal infrastructure will be arranged. The urban locations renovated as a result of new projects will create the new opportunities for the local residents.
At present stage, the Bidding for the "Renovated Regions" Program II Stage Works has been announced already for infrastructural projects to be executed in Kvareli, Telavi, Sighnaghi, Dedoplistskaro and Gurjaani.