Opening of Gurjaani Central Park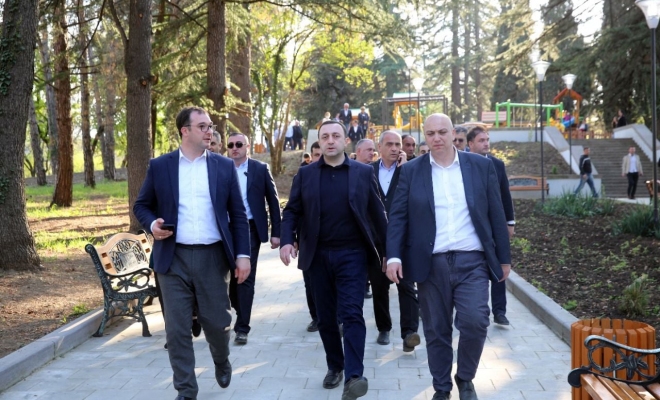 The Municipal Development Fund (MDF) of the Ministry of Regional Development and Infrastructure of Georgia (MRDI) has completed rehabilitation of the central square and of the recreational park in Gurjaani Town.
The project implementation was backed by GEL 3.8 million financial support by the European Investment Bank (EIB). Gurjaani Park has been rehabilitated by MDF.
Prime Minister of Georgia Irakli Gharibashvili visited the site of the renovated park. Along with Head of the Government, the site was visited by Minister of Regional Development and Infrastructure Irakli Karseladze and Executive Director of MDF David Tabidze.
The total area of Gurjaani central recreational park covers 9 ha. The park was divided into spaces of various sports and cultural fields. Within the project the old basalt stairs were rehabilitated, pedestrian path of red asphalt was laid over 2700 square meters, green pavement was renovated in the park, pedestrian paths and curbs were arranged. The lighting poles were also installed, benches and dustbins were arranged, drinking and irrigation water systems were renewed, the visitors' center at the entrance of the park was arranged and the playing field, designated for 400 seats was built. The existing amphitheater and cinema were rehabilitated too; recreational zones and amusement arcade for children were arranged on the park site.
Upon project finalization, Gurjaani historical park that was famous for hosting various events, will take its historical function back and become the active space for conducting cultural and sporting events. Its restoration will create relevant conditions for Gurjaani population to relax and will function again as an interesting center to attract tourists.
John Malkhaz Shalikashvili Museum of Georgian Military History undergoes rehabilitation on the site of Gurjaani Park. The rehabilitation works are funded by the "Pilot Program for Integrated Development of Regions" of the European Union (EU) at the cost exceeding GEL 465 000. The rehabilitation works are to be completed by the end of the year. The project aims to support the tourism development by restoring-maintaining the historical sites of the region and applying its unique potential.