Rustavi Sports Complex to become an important facility for sports development throughout the Region - Irakli Karseladze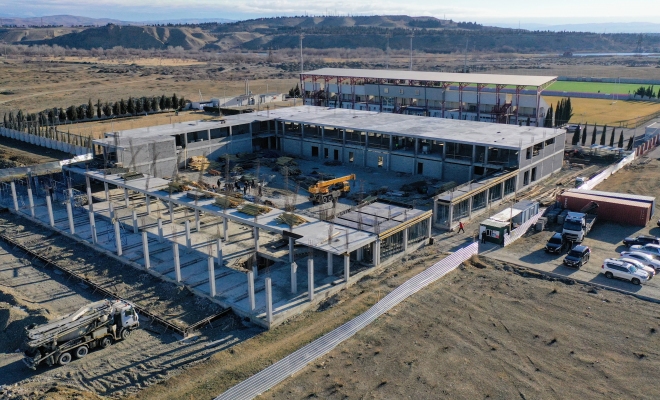 The Municipal Development Fund of the Ministry of Regional Development and Infrastructure of Georgia is constructing modern standards sports complex in Rustavi city. Irakli Karseladze, Minister of Regional Development and Infrastructure of Georgia and Davit Tabidze, Executive Director of the Municipal Development Fund of Georgia visited the site of the ongoing project.
The sports complex is a two-storey building with an indoor sports hall designed for 1500 spectators. The sports hall and various spaces of the sports complex may be used for such athletic disciplines, as wrestling, basketball, handball, futsal, etc.
The building is to accommodate all necessary utility rooms, dressing rooms, a conference hall, an inventory storage facility, restrooms and water closets. There are also an open café, sports shop, parking lot and recreational zone designed in the building. The project also envisages arrangement of footpaths, with lampposts, benches and litter bins installed lengthwise the road; the adjacent area is to undergo landscaping works.
The design of the present sports complex was developed with observance of international federations' (FIBA, IHB, FIVB) standards.
The sports complex project is backed by the Asian Development Bank; cost of construction works equals GEL 19.3 million. Work completion is scheduled by the end of current year.