We already have significant effects of road, municicpal and water supply-wastewater infrastructure development in Kakheti - Irakli Karseladze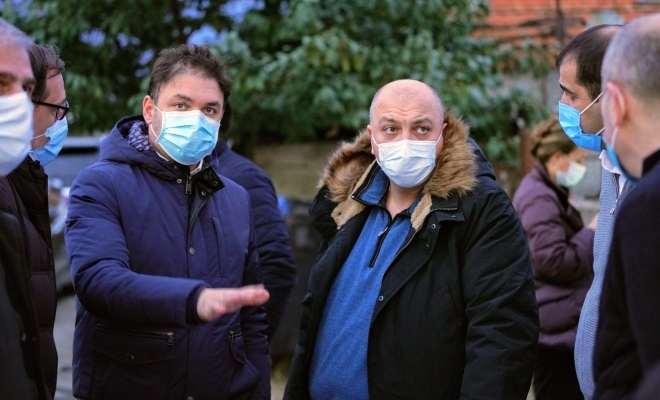 Irakli Karseladze, Minister of Regional Development and Infrastructure of Georgia and Davit Tabidze, Executive Director of the Municipal Development Fund of Georgia visited sites of infrastrctural projects ongoing in Kvareli, Akhmeta and Lagodekhi municipalities of Kakheti Region.
Infrastructural projects funded under the educational, water supply and "Renovated Regions" Program are in active phase in various municipalities.
The Minister and Executive Director of the MDF together with Parliament Member – Irakli Kadagishvili and some representatives of local self-government checked out construction works underway in the above-referred municipalities.
Under the "Renovated Regions" Program, works are completed for rehabilitation of 2 buildings, and there are still rehabilitation works for 4 buildings and adjacent area improvement works ongoing on Ilia Chavchavadze street in Kvareli. For water supply infrastructure development, there is a GEL 39.6 million water supply and wastewater system full rehabilitation project in progress, which involves arrangement of the new water supply network, rehabilitation of the existing infrastructure, installation of wells and pipeline. The project also provides for construction of the new wastewater network and design works for the wastewater treatment plant. Following project completion, Kvareli population is to benefit from uninterrupted water supply, modern wastewater system and WWTP.
Projects under the "Renovated Regions" program are also in active phase in Akhmeta. Urban renovation of Bidzina Cholokashvili street, which involved arrangement of sidewalks, curbs, fences, house entrance gates, and square improvement works, is already completed. 11 buildings' energy efficiency and 2 squares' improvement works on Bidzina Cholokashvili street are to commence during the current month. Project cost equals GEL 5 million.
Rehabilitation works for Zakatala street and so called "Polkov Park" are ongoing in Lagodekhi.
Water supply rehabilitation works are also underway in village Matani. There are headworks, new reservoir, main pipeline and 65 000 m internal network under construction there. As a result of project implementation, about 4500 local inhabitants will have water supply service improved.