"The Renovated Regions Program grants a new opportunity to municipal community and business development" - Irakli Karseladze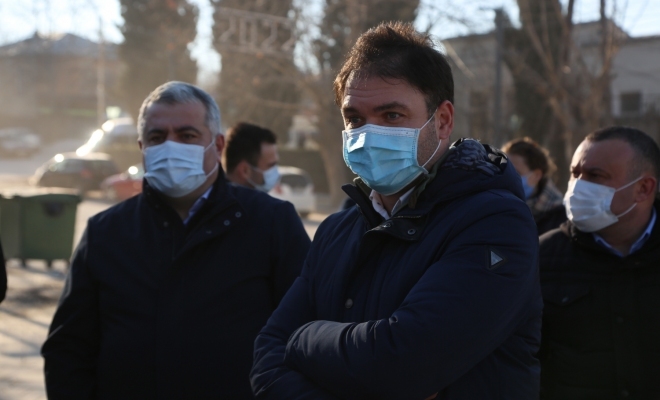 Irakli Karseladze, Minister of Regional Development and Infrastructure of Georgia and Davit Tabidze, Executive Director of the Municipal Development Fund of Georgia visited sites of infrastrctural projects ongoing in Dedoplistskaro and Sighnaghi municipalities of Kakheti Region.
Infrastructural projects funded under the educational, water supply and "Renovated Regions" Program are in active phase in various municipalities.
The Minister and Executive Director of the MDF together with Parliament Member - Davit Songhulashvili and some representatives of local self-government checked out construction works underway in Dedoplistskaro and Sighnaghi municipalities. The visited sites in particular included: Rustaveli and Hereti streets in Dedoplistskaro and Sarajishvili and Chavchavadze streets in Sighnaghi, which are undergoing urban renovation works.
There are finishing works for 13 buildings in progress on Rustaveli and Hereti streets of Dedoplistskaro; preparatory works for renovation of additional 23 buildings have already commenced. Moreover, street lighting and sidewalk arrangement works are completed and fountain finishing and landscaping works are currently ongoing. As for Sighnaghi, 12 private building finishing and sidewalk arrangement works under Sarajishvili street rehabilitation project are fully completed. Currently, works are underway for restoration of the existing fence and arrangement of the new brick one. Works have been commenced for rehabilitation of buildings and fences on Chavchavadze street.
Irakli Karseladze and Davit Tabidze also visited the 141 pupil public school of village Samtatskaro in Dedoplistskaro Municipality, full rehabilitation, reinforcement, water supply, power supply, heating, ventilation and fire system renovation of which was funded from the state budget with GEL 3,6 million.
There are also some important water supply projects in progress in Dedoplistskaro and Sighnaghi municipalities. More precesely, Dedoplistskaro water supply network rehabilitation project involves full rehabilitation of the water supply network of the town and 15 villages (Khornabuji, Samreklo, Pirosmani, Samtatskaro, Tavtskaro, Choeti, Sabatlo, Zemo Kedi, Kvemo Kedi, Arkhiloskalo, Gamarjveba, Ozaani, Arboshiki, Zemo Machkhaani and Mirzaani). The project provides for arrangement of completely new, centralized water supply system, with rehabilitation and construction of reservoirs, wells, pump stations and headworks; total project cost amounts to GEL 58 million. Following project completion, the population is to benefit from 24-hour, quality water supply services.
Water supply system rehabilitation works, at the cost of GEL 27 million are ongoing in Sighnaghi Municipality Villages Anaga, Vakiri, Bodbiskhevi, Jughaani, Tibaani, Kvemo Magharo, Kvemo Bodbe and Sakobao. Major part of construction works is completed; as a result of project implementation, over 17 thousand beneficiaries will have improved water supply service.