Mestia Municipality Village Becho Public School Undergoing Full Rehabilitation Works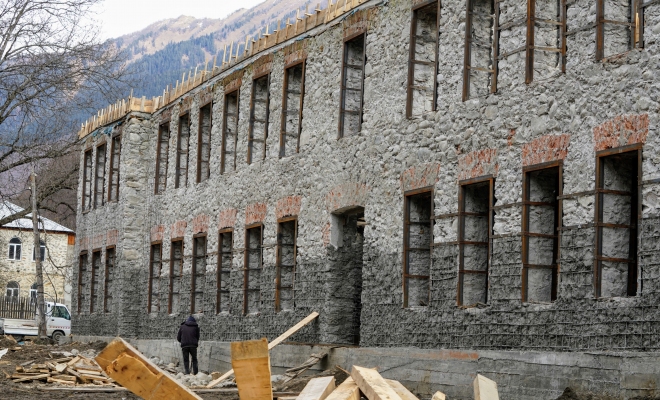 The Municipal Development Fund of the Ministry of Regional Development and Infrastructure of Georgia is proceeding with School Construction and Rehabilitation Program.
The MDF is completing full rehabilitation of public school in Mestia Municipality village Becho. The school is designed for 240 pupils.
Cost of the Government of Georgia funded project amounts to GEL 2,6 million.
The Village Becho school is to be constructed with observance of international standards, it will be adapted to the needs of disabled persons.
There will be classrooms, bathrooms, sports grounds and yard area arranged for the school. Heating, water supply and wastewater systems are to be arranged under the named program as well.
Giorgi Tsibadze, First Deputy Executive Director of the MDF visited the ongoing project site together with local authorities.
Pupils of the above-referred village were attending the school, which was in the poor state. As a result of project implementation, they will have an opportunity to benefit from the renovated and orderly infrastructure and improved environment.
The MDF is also implementing the project for construction of 2 new schools in Mestia.
As for now, there are projects for construction and rehabilitation of 77 schools completed in various regions countrywide under the Educational Infrastructure Program.
The Educational Program is backed by the Government of Georgia and donors (CEB და NEFCO), overall Program cost is exceeding GEL 300 million.
The MDF has been involved in Educational Infrastructure Construction and Rehabilitation Program since 2019.