"Renovated Regions" Program's Infrastructural Projects in Samtskhe-Javakheti Region under Active Phase of Execution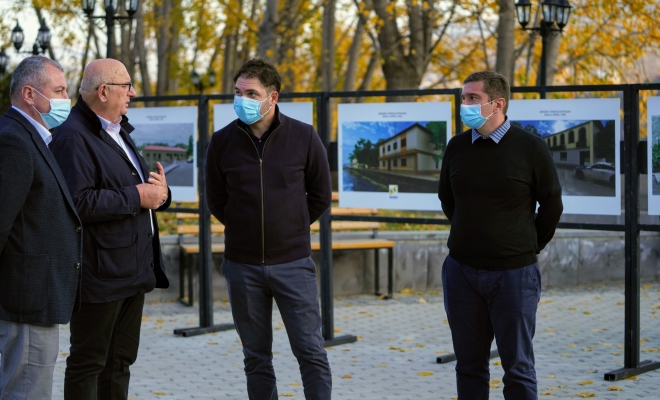 The infrastructural projects of the "Renovated Regions" Program undergo active phase of execution in almost all Municipalities countrywide. Implementation of projects is commenced in Adigeni, Akhaltsikhe, Akhalkalaki, Kaspi, Aspindza and Ninotsminda Municipalities of Samtskhe-Javakheti Region.
The "Renovated Regions" Program scheduled for 4 years covers 63 Municipalities of Georgia and tentative price of its first stage only amounts to GEL 500 million. The program envisages urban renovation of regions, implying development of significant facilities owned by state, municipalities and private citizens.
The special committee approved the projects with the direct involvement of Municipality representatives, while construction companies were selected based on E-bidding, announced by MDF. The special committee consisted of representatives of local and central authorities, as well as of spatial planning specialists.
The site of current works in Samtskhe-Javakheti region was visited by Executive Director of MDF David Tabidze along with the representatives of local authorities. The urban renovation works within the program are being conducted at Tamar Mepe St. in Adigeni, Natenadze St. and on nearby square, as well as in Giorgi Brtskinvale Square in Akhaltsikhe, on Tavisupleba St. and central square of Akhalkalaki, throughout Haios-Kartlos Square and on the one at Tavisupleba St. in Ninotsminda. The sidewalks and drainages are being arranged in Tsalka Municipality, and the triangle square and war memorial too are being rehabilitated in Aspindza Municipality.
Upon project implementation the central streets will be renovated, new squares and other Municipal infrastructure will be rehabilitated in the regions of the country. The urban locations renovated as a result of new projects implementation, will create the new opportunities for the local communities.