Children to Attend a Fully Refurbished School in Village Anaga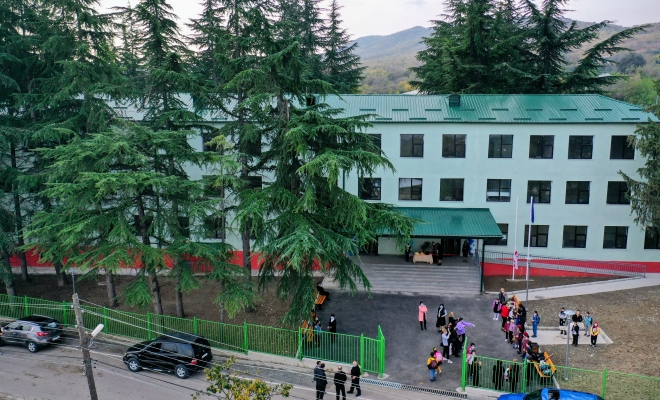 The Municipal Development Fund of the Ministry of Regional Development and Infrastructure of Georgia is proceeding with the school construction and rehabilitation program.
The MDF has completed full rehabilitation of the public school designed for 200 pupils in Sighnaghi Municipality village Old Anaga of Kakheti Region.
Cost of the Government of Georgia funded project equals GEL 2.7 million.
Ilia Begiashvili – Deputy Minister of Regional Development and Infrastructure of Georgia and Davit Tabidze – Executive Director of the Municipal Development Fund of Georgia together with local authorities visited the rehabilitated school.
The depreciated school building underwent rehabilitation works in accordance with international standards. It is fully adapted to the needs of disabled persons. There are classrooms, toilets, sports grounds arranged in the building, school area was subjected to improvement as well. Moreover, there were heating, water supply and wastewater systems installed.
Pupils of the above-referred school were getting educated in rough conditions, however following project completion they will have an opportunity to benefit from orderly infrastructure and improved educational environment.