Irakli Karselidze – Today is an outstanding day for Kutaisi and Georgian Sport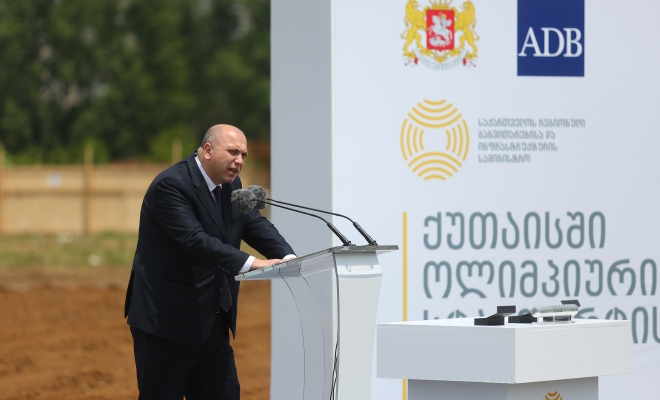 Today is an actually outstanding day for Kutaisi and Georgian sport, since we are laying the foundation for construction of a swimming pool of Olympic standards, - Irakli Karseladze, Minister of Regional Development and Infrastructure of Georgia stated the aforesaid in Kutaisi, at the new sports complex project launching ceremony.
"This is going to be a place to host national, as well as international tournaments. I, for one- as a person from Kutaisi and a former water-polo player - am going through doubled emotions. My coach, Mr. Zhora Kutateladze is present here; I got acquainted with him at the age of 6, and he accompanied me when I was for the first time called to the national squad. Invaluable is the contribution of these people, who despite of challenges have succeeded in arousing youngsters' interest for sports and what is more, have achieved tangible results, and we appreciate that! I am convinced that this type of infrastructure will undoubtedly offer a wonderful opportunity to future generations," – declared Irakli Karseladze.
The Minister emphasized importance of ADB assistance in implementation of the present and such other projects and expressed his gratitude for cooperation to Shane Rosenthal , Country Director of Georgia Resident Mission at Asian Development Bank.
Apart from Kutaisi, ADB – backed projects for construction of sports complexes by today's standards will be concurrently initiated in another three towns - Akhaltsikhe, Rustavi and Zugdidi.
According to the design, a 50 meter length and 25 meter width indoor swimming pool of Olympic standards is to be constructed in Kutaisi. Various age groups of amateur sportsmen and aquatic sports' teams will have an opportunity to benefit from the new swimming pool. The swimming pool complex is also to accommodate gymnasiums, stands designed for about 600 spectators and spaces for food services and sporting goods stores. There will be a parking lot arranged outside the sports complex, the swimming pool infrastructure will be adapted to needs of disabled persons.
Estimated duration of the poroject is 18 months. .
Prime Minister of Georgia Irakli Gharibashvili greeted those present at the sports complex project launching event, following which the Prime-Minister, Irakli Karseladze and Shane Rosenthal placed a symbolic capsule in the building foundation.
The event was attended by Interior Minister, Vakhtang Gomelauri, Governor of Imereti Region, Zviad Shalamberidze, Member of Parliament from Kutaisi, Zaza Lominadze, Mayor of Kutaisi City, Ioseb Khakhaleishvili, Head of the Regional Relations Department of Governmental Administration of Georgia, Leri Barnabishvili, Executive Director of the Municipal Development Fund of Georgia, Giorgi Shengelia, as well as the former and acting sportsmen.