Houses for IDPs being constructed in Kutaisi City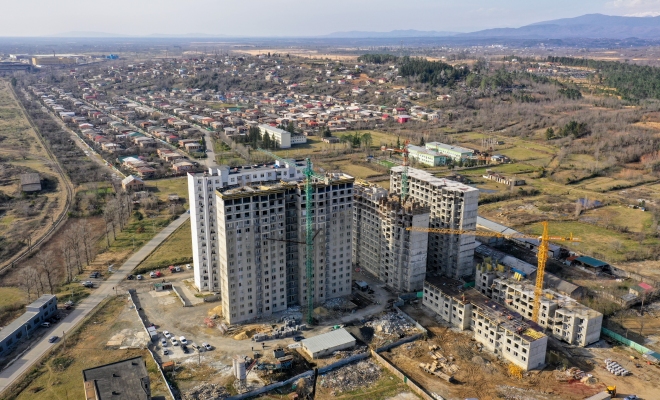 5 sixteen-story residential houses at N53 Shervashidze St. in Kutaisi City are being constructed by Municipal Development Fund (MDF) of Ministry of Regional Development and Infrastructure of Georgia (MRDI). The project implementation is backed financially by Government of Georgia (GoG) at the cost exceeding GEL 36 million.
The project was commenced in August of 2019 and is to be completed in April 2022.
Finalization of works will result in improving the living conditions of 800 IDP Households, since they will be reside at new houses, built in compliance with international standards.
The apartments will be delivered so as to have all repairing work finished. The access roads and parking lots will also arranged. The green line and specific space designated for children will be arranged on the site as well. The residential houses will be thoroughly adapted for the people with disabilities.
Along with Kutaisi City, residential buildings for IDPs are also being constructed by MDF in Zugdidi and Tskaltubo Cities. The residential houses at the cost of GEL 152.3 million are to be constructed with financial support from the GOG in 2019-2022. The residential apartments will be delivered to 2440 households.