IDP Housing under Construction in Tskaltubo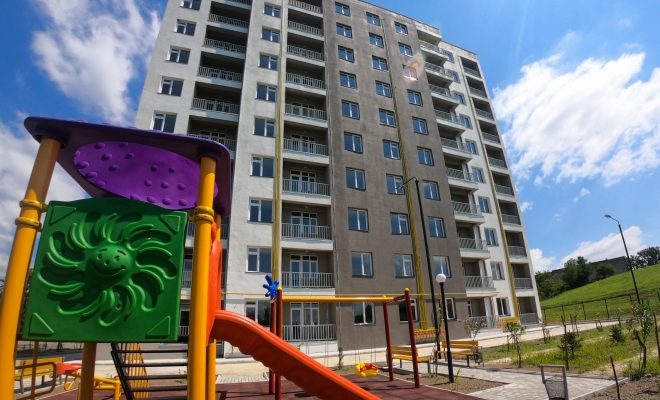 The Municipal Development Fund of the Ministry of Regional Development and Infrastructure of Georgia is implementing the project for construction of 6 houses for IDPs in Tskaltubo Municipality Village Gvishtibi. The project is funded by Government of Georgia and its cost averages GEL 29 million.
The project was launched in January 2019 and will be completed in June 2021.
As a result of project completion, 420 IDP households will have their living conditions enhanced, as they will move to the new houses constructed with observance of international standards.
The project provides for improvement of the apartment building adjacent area. Outdoor lighting will be installed and playground – arranged for children. Each building will be equipped with private parking lot and ramps; there will be asphalt-concrete pavement laid on the road, drainage systems will be arranged as well. Apartments will be fully adapted to the needs of disabled persons.
In 2020, there was the project for construction of 2 apartment buildings for 140 IDP households completed in Tskaltubo. Total project cost exceeded GEL 10 million.
Apart from Tskaltubo, The Municipal Development Fund is undertaking IDP housing construction projects is Zugdidi and Kutaisi. Within the period of 2019-2022, there will be apartment buildings at the cost of 152.3 million constructed with Government of Georgia funding and 2440 households will be provided with housing.