Construction of New School in Patara Mejvriskhevi Village near Occupation Line is Finalized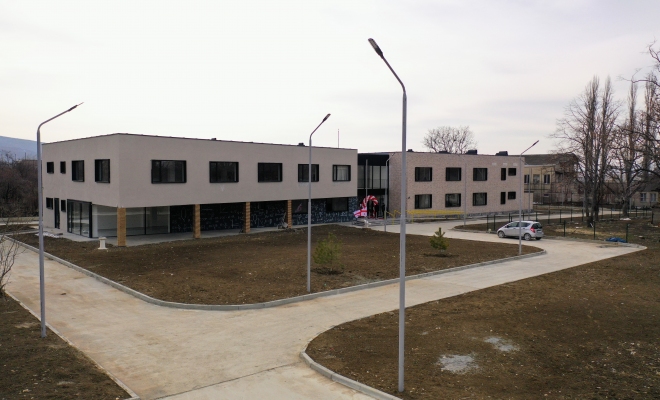 The Municipal Development Fund (MDF) of Ministry of Regional Development and Infrastructure of Georgia (MRDI) has finalized construction of public school in Mejvriskhevi Village near occupation line.
The project implementation was backed financially by the Government of Georgia at the cost of GEL 2.4 million. The school designated for 150 students has been built in compliance with modern standards. Along with the classrooms the school yard was accomplished, and heating, as well as the water supply and waste water systems were installed. The school is fully adapted for the needs of those with disabilities.
MDF of MRDI has already completed construction of 4 schools in Shida Kartli region and additional 7 schools undergo construction and rehabilitation as of to date.
The First Deputy Executive Director of MDF Davit Tabidze along with Majoritarian Deputy for Gori and Kaspi Regions Giorgi Khojevanishvili and State Representative to Shida Kartli Region Mamuka Saghareishvili inspected the completed works on site.
Due to depreciated state of public school in Patara Mejvriskhevi Village, students had had to go to the public school of Adzvi Village, but from now on the students of Patara Mejvriskhevi School have started studying at newly built public shool.