22 Buses of Modern Standards Transferred to Rustavi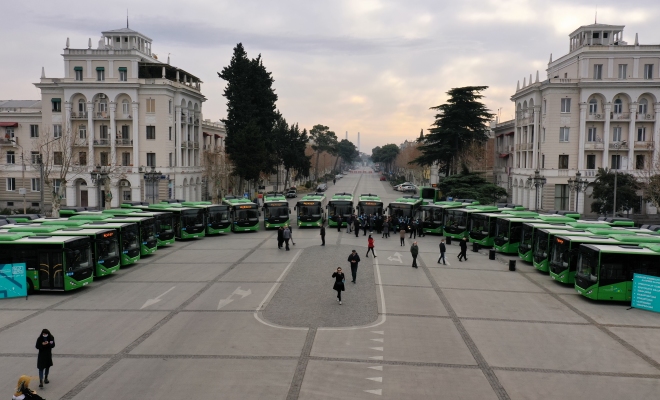 For the first time within decades, public transport fleet of Rustavi was subjected to full replacement. Under the Urban Transport Development Program, the Municipal Development Fund of the Ministry of Regional Development and Infrastructure of Georgia has transferred 22 units of 83 passenger buses of EURO5 standard to Rustavi. The population will have an opportunity to travel with above-referred buses from February 8.
18 additional buses envisaged under the program will be available to Rustavi in the nearest future.
Procurement of buses is underway under the Georgian Urban Transport Development Program backed by EBRD. Each vehicle is fully adapted to needs of disabled persons.
There are 6 cities of Georgia selected for Urban Transport Development Program. Out of 175 units of buses, 20 - will be transferred to Telavi and Poti, 10 to each city, 30 – to Gori, 25 – to Zugdidi, 40 – to Rustavi, 60 – to Kutaisi.
The program will enable cities to develop the municipal transport sector, as for the population – they will avail themselves of modern, comfortable and above all else - eco-friendly buses.