Completed Coast Protection and Coastline Arranging Works in Batumi City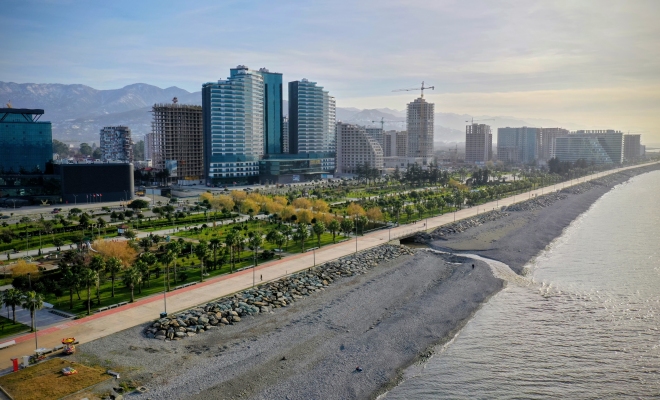 The Municipal Development Fund (MDF) of the Ministry of Regional Development and Infrastructure of Georgia (MRDI) has completed the Batumi Coast Protection Project. The 2-km section of the coastline has been renovated completely within the project. The coast protection structure of about 1.8 km length has been arranged, and the boulevard collapsed due to the storm, has also been renovated. The new pavement over the boulevard has been arranged and the beach has been filled in with sand-gravel mix.
The coast protection structure represents the massive structure, significant part of which is not visible, since it is as built under the sea and is covered with the inert material of the beach. The upper layer of that structure's slope and basement is covered with the 3-7 t quarry rocks, ensuring reliable protection of the coast (boulevard) from the wave impact.
"MDF has completed the Batumi boulevard renovation and coast protection works. The old boulevard was totally demolished due to the sea impact. The sea had actually intruded into this particular site, but now, the boulevard is renovated completely. The protecting berm stretching over 1.8 km has been arranged. It needs to be noted as well that this project is quite unique and of high significance not for Batumi only, but for Georgia as a whole. It is important also that the Construction Company was the foreign one and construction was being executed under supervision of an international company. All procedures were performed in compliance with the rules and regulations set by Asian Development Bank (ADB). Upon project implementation the sea will not damage the available infrastructure and will enable opportunities for more development in order options for additional economic activities to be created" – Executive Director of MDF Giorgi Shengelia said.
The design documentation for Batumi Coastal Protection Project was prepared by Italian International Consulting Company "Technital" and the design solutions were reviewed then by local Experts, whereupon the design was agreed with the leadership of the Autonomous Republic of Adjara. The construction works were carried out by Bidding winner company "Struijk" (the Netherlands).