5 of 175 new buses of modern standard designated for Municipalities transferred to Poti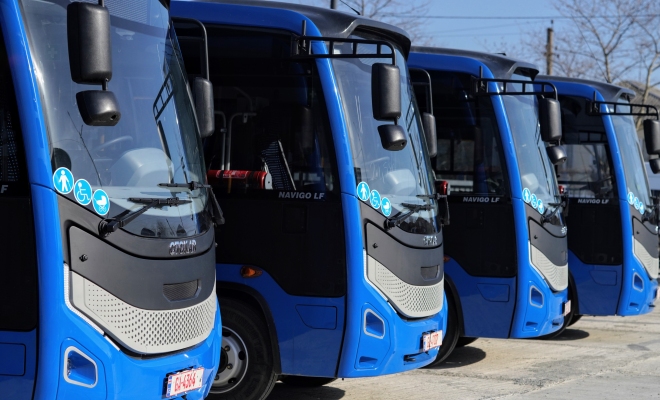 Under the Urban Transport Development Program, the Municipal Development Fund of the Ministry of Regional Development and Infrastructure of Georgia has transferred 5 units of 8.5 m. buses of EURO5 standard to Town Poti.
Thus far, there are 5 new buses designed for 50 passengers transferred to Poti. By spring of the following year, there will be 5 additional bus units handed over to the town. All vehicles are fully adapted to needs of disabled persons.
The EBRD backed program involves procurement of 175 units of up to date buses at a total value of EURO 18.7 million for various municipalities.
There are 6 cities of Georgia selected for Urban Transport Development Program. Out of 175 units of buses, 20 - will be transferred to Telavi and Poti, 10 to each city, 30 – to Gori, 25 – to Zugdidi, 40 – to Rustavi, 60 – to Kutaisi.
The program will allow municipalities to develop the municipal transport sector. The population is to benefit from modern, comfortable and above all else – environment friendly means of transportation adhering to all technical requirements of European standards, including ventilation systems.
Additional specialists will be trained in Public Transport Sector.
175 buses will be gradually transferred to various municipalities before spring of the coming year. Bus routes and travel corridors will be determined by municipalities.