Installing and Testing of Cableways' 2 Directions of 4 in Chiatura is Complete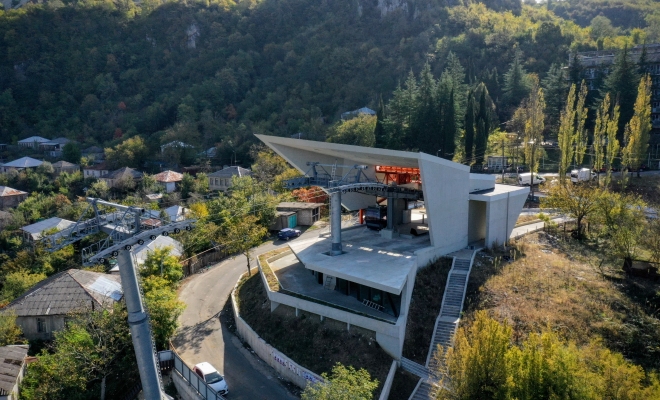 The Municipal Development Fund (MDF) of Ministry of Regional Development and Infrastructure of Georgia (MRDI) completes rehabilitation of cableways in Chiatura.
As of to date, construction of structural part is completed, and installing of the cable in four directions as well as testing of cableways' two directions (Lezhubani and Sanatorium) are finalized.
Remainder two directions undergo final stage of power adjustment, whereupon testing of these directions will proceed.
The experts of French Companies "Techcable" and "POMA" are involved in Project, and supply of reverse type cableways with gondolas was ensured by French Company "Pomagalski".
Chiatura cableways undergo rehabilitation with financial backing from Georgia and French Government at the cost exceeding GEL 40 million in total.
Upon completion of final stage of reconstruction of cableways and stations, central station of the cableway will be completely restored along with its four passenger directions, totaling 3428 meters.
The cableway had been one of the main means of movement throughout the mountainous-hilly relief of Chiatura since the 50-ies of the 20th century. It was in Chiatura exactly where the first passenger cableway throughout the former Soviet Union was built. The available lines and gondolas were not meeting the requirements of the 90-ies, and even were posing threat to passengers. Hence, operation of the cableways was stopped in 2016.
Upon project finalization, residents of Chiatura and its visitors will be able to move safely and comfortably by means of new and environmentally sound cable transport.