New up-to-date standard archaeological museum constructed in Mtskheta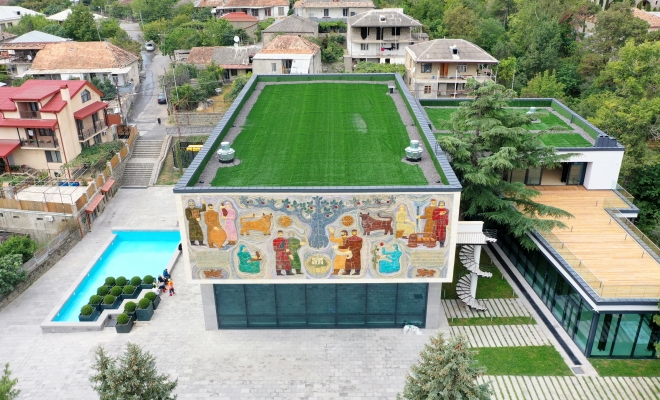 Commencing from 2020, Mtskheta Archaeological Museum will be housed in the new building.
The new, up-to-date standard archeological museum was constructed at the premises of the old movie theater building. The World Bank funded project at the cost exceeding GEL 9.6 mln was implemented by the Municipal Development Fund of the Ministry of Regional Development and Infrastructure of Georgia. As a result of reconstruction activities, the building is to accommodate exhibition and conference spaces, museum depository, café and other visitors' and administrative utility areas.
The museum design is the result of collaborative efforts of the Ministry of Culture and Monument Protection of Georgia, National Agency of Cultural Heritage Protection of Georgia and Municipal Development Fund of the Ministry of Regional Development and Infrastructure of Georgia undertaken under the WB funded Regional Development Project III. The design was developed in accordance with procedural guidelines of UNESCO World Heritage Center, with observance of all current museological standards. The project also envisaged conservation works for "Mtskheta Gates" – archeological monument integrated within the space of the existing building. The museum adjacent public space underwent improvement works and got equipped with outdoor lighting and such other infrastructural elements.
The Municipal Development Fund is also to carry out museum equipment with exhibition and office articles.
The modern museum space is to accommodate those 23 thousand archeological artifacts, which were hitherto kept in the repositories of Mtskheta City Hall building.
In connection with completion of Mtskheta Archeological Museum reconstruction and infrastructural project, on the initiative of National Agency of Cultural Heritage Protection of Georgia, there is an exhibition titled "From the Recollection of Monument Protection History" displayed in the museum showroom. The exhibition includes visual material of sketches, admeasurements, survey and design documentation kept in the depository of the National Agency; it reflects various graphic, architectural and pictorial art pieces created over the course of XX century, starting from 1918 and narrates to the visitors about hieratic, fortification and civil architecture of various regions of the country.
In view of pandemic background existing in the country, the museum will not be able to receive visitors for a while. The exhibition space will be open to interested persons, following stabilization of epidemics.
The design was prepared by the "Georgian Heritage" Company, Zaza Iashvili is author of the design. The winner Company "Java" implemented physical works.
The former movie theatre was constructed in 60-ies of past century, author of its design is architect G. Jabua. It is an interesting and valuable example of XX century architecture. The building, unapplied for decades, was in 2015 transferred to the ownership of NACHP. From that point on, design works commenced for adapting its space for use as an archeological museum.