Sports Complex Construction to Finalize in Poti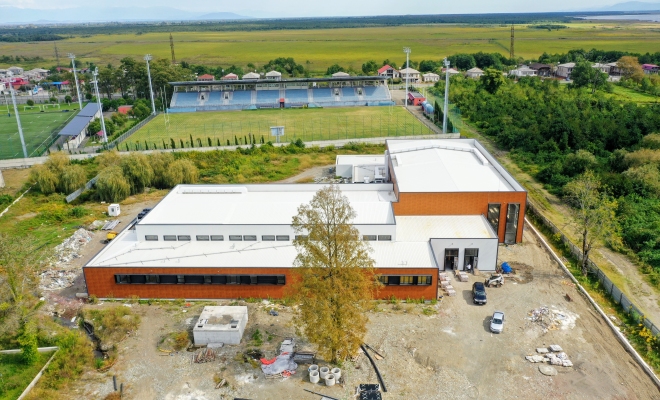 The multi-functional sports complex and a swimming pool undergo construction by the Municipal Development Fund (MDF) of the Ministry of Regional Development and Infrastructure of Georgia (MRDI). The project implementation is backed financially by European Investment Bank (EIB) at the cost of GEL 14.5 million.
The construction works for the Sports Complex envisage building of big and small size swimming pools and of fitness hall. The project considers also arranging of playgrounds for basketball, futsal and volleyball. The sports ground with the viewing stands designated for 160 people will be constructed. The Sports Complex is to house the hall for devices for physical exercises, room for storing of sports equipment, shower units, rooms for trainers, referees, staff and a doctor. The Sports Complex will house also café and a dormitory for sportsmen.
Those interested in sports will be enabled to exercise in well-furnished environment and conduct the tournaments in different athletic disciplines at national as well as at international levels. The referenced activities will boost establishment of healthy lifestyle amongst the youth.
Executive Director of MDF Giorgi Shengelia and Poti City Mayour Gocha Kurdghelia were familiarized with the Sports Complex current works on site.