Minister of Infrastructure, Directors of USAID and MDF opened rehabilitated Sagholasheni-Dvani and Gorijvari roads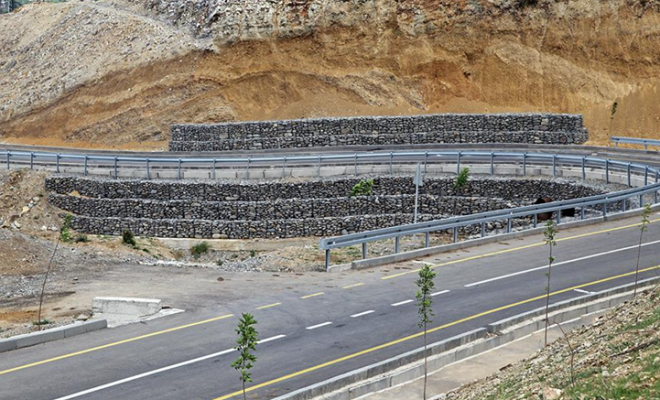 Inauguration of rehabilitated roads of Sagholasheni-Dvani and Gorijvari was held on July 2 in Kareli and Gori Municipalities under Municipal Infrastructure and IDP Housing Rehabilitation Project.

Mr. Davit Narmania, Minister of Regional Development and Infrastructure of Georgia, Mr. Stephen Haykin, USAID Mission Director in Georgia, Mr. Elguja Khokrishvili, Executive Director of Municipal Development Fund of Georgia and Mr. Mamuka Tsotniashvili, Deputy Minister of Internally Displaced Persons from the Occupied Territories, attended the inauguration ceremony.

Kareli Municipality Governor and representatives of Association for Georgian Archeology also attended the road inauguration ceremony.

The Municipal Development Fund of Georgia implemented rehabilitation works for village Gorijvari access road and Sagholasheni-Dvani internal municipal road with USAID financing. The lump sum for implemented works comprises 1 987 026, 87 GEL. Rehabilitation works for above-mentioned project had been underway for 10 months. 12,3km road was rehabilitated on Sagholasheni-Dvani section, while in Gorijvari was rehabilitated 1,5km road.

Rehabilitation of Sagholasheni-Dvani motorway addressed the traffic issue for population of 5 villages - Sagholasheni, Breti, Takhtisdziri, Dvani and Dviri and rehabilitated road was connected to the national highway. Due to Gorijvari rehabilitation, local population and tourists will access Gorijvari Monastery through the rehabilitated road.

Besides population of 5 villages of Kareli Municipality, 2, 500 IDPs will benefit from the success of the road project.

Concerning Gorijvari road rehabilitation, the mentioned road connects to the main highway and passes by the square located near Gorijvari Monastery. Before commencement of rehabilitation works, access road to the monastery was in a terrible shape. It was originally constructed 50 years ago.
MDF contracted design/build services with USAID oversight in accordance with Georgian and US standards and works were fully completed within nine months.

More than 13,000 IDPs will directly benefit from the success of the above-mentioned road project. Rehabilitation works for local significance Gorijvari and Sagholasheni-Dvani motorway has been carried out by "Black Sea Group". 150 persons were employed on-site under the project, including 40 locals.

In conflict zone besides Sagholasheni, Dvani and Gorijvari roads, with financing of USAID have been implemented 5 road projects in total.

It's worth mentioning that due to rehabilitation works of Sagholasheni-Dvani roads, nineteen archeological findings of 2,500 years old were discovered, in particular, evidence of a burial ground or necropolis of Mtkvar-Araksi culture dating back to the Bronze Age (700 – 400 BC). Artifacts found included clay pottery, bronze and metal weapon, glass jewelry and golden and bronze fragments. Discovered cultural findings were studied and ultimately transported to the Tbilisi State University museum.