Boulevard Arranging Works in Ureki Borough Underway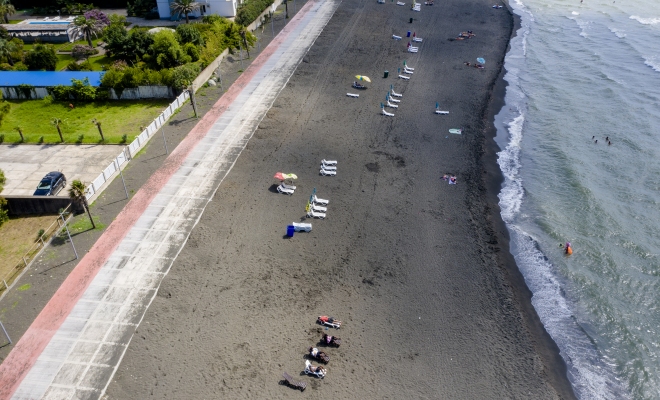 The Municipal Development Fund (MDF) of the Ministry of Regional Development and Infrastructure of Georgia carries the works for boulevard and its nearby central streets in Ureki Borough of Ozurgeti Municipality. The project is backed financially by the Government of Georgia (GoG) and its cost amounts to about GEL 5 million. The first stage of Ureki boulevard works, comprising of arranging the outdoor lighting, bike lanes and small squares and spaces for seasonal open cafés and commercial entities, as well as of WCs' constructing, has been completed. Arrangement of road infrastructure and installation of outdoor lighting on street in parallel to the boulevard has been finalized as well.
The progress of execution of works was inspected on site by MDF Executive Director Giorgi Shengelia, per whom the Contractor Company had been notified of substandard works for several times. The Contractor Company still has some issues pertaining to the performance quality, what for the financial obligations arisen out of the Contract may be imposed on it.
"The Ureki boulevard arranging works are being executed by MRDI with the support of GoG. Unfortunately, the Contractor Company does not fulfil the undertaken commitments in a due manner that is why we had had to release the notices for several times. Today's visit too aims at monitoring providing. We have no note though that the works designated by the first stage are more or less completed, however the quality of works accomplished is not still satisfactory. Thus, our team will study this site once again, the final notice will be released to the Contractor and if the defects are not eliminated in an immediate future, we will have to impose the fines" – Giorgi Shengelia said.
Rehabilitation of boulevard in Ureki borough will boost development of tourist infrastructure that will increase employment opportunities for locals.