Visitors to face well organized Tourist Infrastructure at Gelati Monastery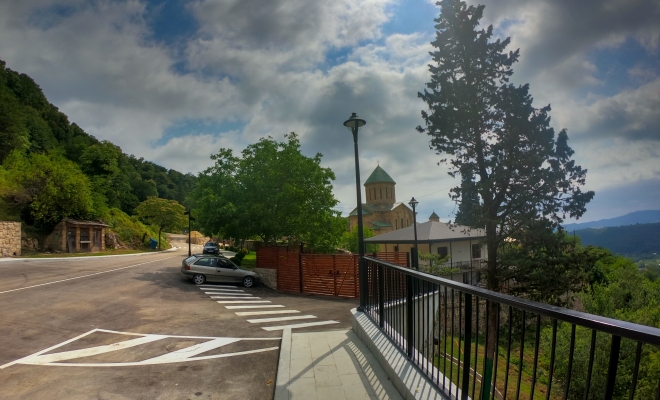 Arranging of tourist infrastructure at Gelati Monastery has finalized as per order of Municipal Development Fund (MDF) of the Ministry of Regional Development and Infrastructure of Georgia (MRDI). The project implementation was backed financially by World Bank (WB) and the cost of works exceeded GEL 1.6 million. Executive Director of MDF Mr. Giorgi Shengelia visited the site of completed works.
The tourist infrastructure arranging works at Gelati Monastery were carried out into two stages by MDF. The first stage works were composed of arranging the Visitors Center, WC, parking lot, WSS & WWS at Gelati Monastery. Execution of the second stage works resulted in rehabilitating the depreciated retaining wall. The informative signs, curbs, fencing and outdoor lighting for the parking lot were arranged there. The Church access road of 600 m length was also asphalted. The infrastructure is thoroughly adapted for the people with disabilities.
The project will assist to maintenance of cultural heritage monuments and development of the tourist infrastructure of the country.