Bidding for Roshka-Arkhoti Motorway Construction Reannounced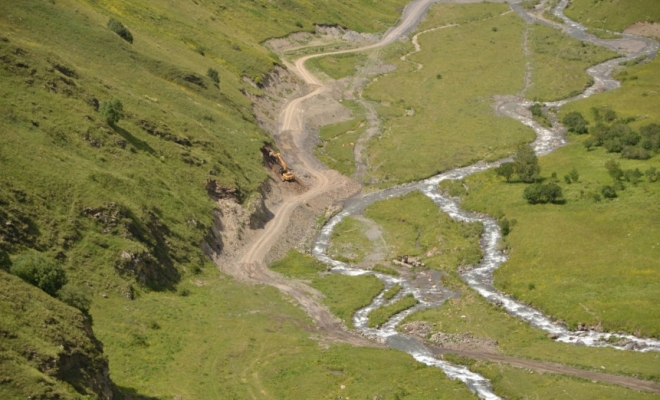 The Municipal Development Fund (MDF) of the Ministry of Regional Development and Infrastructure of Georgia (MRDI) has reannounced the Bidding for Construction of Roshkha-Arkhoti Motorway in Dusheti Municipality. The detailed information related to the Bidding is available at MDF web-page as follows: http://mdf.org.ge/?site-lang=ka&site-path=tenders/current_tenders/&id=3805
The initial bidding for Roskha-Arkhoti road had identified the company which failed to fulful the Contact obligations. Notwithstanding numerous notices released by MDF, the Contractor Company was not able to correct the formed situation and MDF had had to cancel the Contract.
The construction site starts at Roshka Village of Dusheti Muicipality, passes through Arkhoti pass and Asa river gorge and ends up in Amgha Village. There had been the pedestrian path only on that particular section. The soil motorway of 6 meter width and of 28 km length has already been arranged within the program that enables movement of cross-country vehicles on it. The second stage envisages arranging of bank protection structures and bridges over the road.
Almost the whole population abandoned the frontline Arkhoti Village because of absence of the road for years, and nowadays only 4 households do reside there. Along with the strategic significance, the project is of high importance from the point of economic development of the region. This road will assist to returning of local residents to their homes and increase the tourist potential of Khevsureti.