Maya Tskitishvili – Our infrastructural projects serve the purpose of generating more incomes for all Regions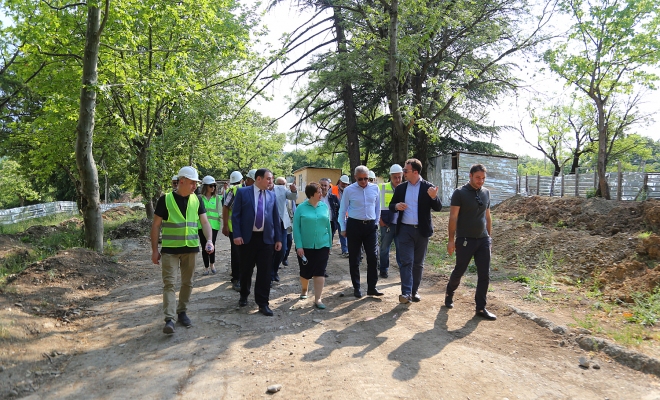 Maya Tskitishvili – Vice-Premier of Georgia, Minister of Regional Development and Infrastructure, Davit Tabidze - First Deputy Executive Director of the Municipal Development Fund of Georgia, Irakli Kadagishvili - Authorized Representative of the State in Kakheti Region, Davit Songhulashvili – Majority Member of Parliament from Gurjaani, inspected tourist infrastructure construction work sites in Sighnaghi and Gurjaani Municipalities.
The MRDI is implementing the project for construction of Bodbe Convent access road, parking lot and visitor center next to Bodbe Convent in Sighnaghi Municipality. Due to increased volume of tourist and parish vehicles, the convent infrastructure was failing to meet the growing demand, which was frequently resulting in traffic congestions in the vicinity of the Bodbe Convent. Following project completion, the visitors will benefit from the two-level parking lot arranged in the convent adjoining area in accordance with up-to-date standards.
Gurjaani park landscaping-improvement works are also in active phase. There will be recreational zones, children's attractions, lighting poles and footpaths arranged in the park area. Benches and litter bins will be installed and landscaping works will be carried out as well. The project provides for construction of the visitor center, administration building, sports ground, pavilion; the outdoor movie theater, amphitheater and pergola will be subjected to rehabilitation. Outdoor lighting, water closet units, water supply and wastewater systems existing in the Gurjaani park area will undergo improvement works. The park territory will be fenced and a decorative corner will be arranged.
According to the Vice-Premier, it is of great importance to provide in each Region such infrastructure as to contribute to its future development.
,, We have a great number of projects focused on regional infrastructure development, Gurjaani park rehabilitation being one of examples. It is a historical park, which was famous for it being a venue of various events and therefore, its refurbishment and restoration of its original function will be instrumental to creation of comfortable conditions for Gurjaani population, and to rendering Gurjaani a purpose of such center, as to assist the town in attraction of additional tourists. Moreover, traditionally, we develop tourist infrastructure next to various cultural monuments, and respectively tourist infrastructure – parking lot, visitor center is to be constructed in the vicinity of Bodbe convent as well. Besides, putting in order water supply and road infrastructure is of first importance. Gurjaani by-pass road construction project is of great moment, works to average cost of GEL 40 million are funded by the World Bank and as early as this year we are to benefit from the safe and fast road, it will open to visitors a possibility to visit more locations while passing a touristic route and thus, all the above serves the purpose of generating more incomes for all Regions "- declared Maya Tskitishvili.
The Ministry is implementing construction works for the 15,5 km section of Akhmeta-Telavi-Bakurtsikhe motor road in Gurjaani Municipality. After project completion, vehicles travelling in the direction of Gurjaani-Bakurtsikhe will not have to transit needlessly through town Gurjaani of Gurjaani Municipality and its adjacent villages. Road construction works will be completed by year-end.