Project for Integrated Rehabilitation of Flood-Ravaged Infrastructure Completed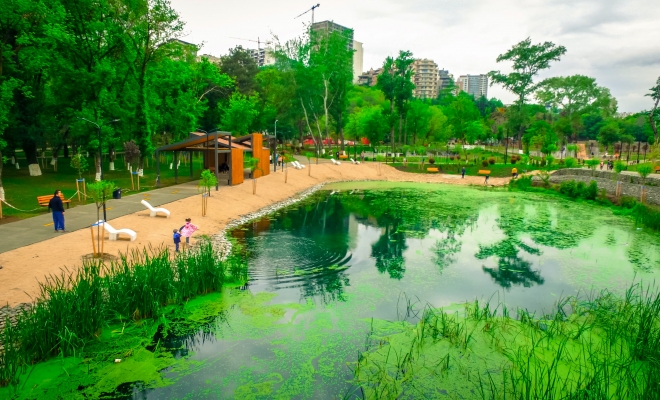 The Ministry of Regional Development and Infrastructure of Georgia has completed the project for integrated rehabilitation-reconstruction of infrastructure damaged as a result of June 13, 2015 natural disaster.
Cost of the 9-component project funded by the European Investment Bank (EIB) exceeded GEL 50,6 million.
The first and most pressing project phase was launched in 2017 and completed in Summer of 2018, it involved Tskneti-Samadlo, Tskneti-Akhaldaba and Tskneti-Betania road rehabilitation, the 4 km long flood-ravaged road section and adjacent area were subjected to rehabilitation. Early warning systems were installed in landslide-prone zones of the same section.
The project for construction of two debris-catching structures in Tbilisi, river Vere gorge was completed in 2018. Lattice is to trap debris arriving into the riverbed and protect against flooding bridges, tunnels and urban area located within the river Vere gorge.
For prevention of river erosion, there was a Vere bank protecting 118 m high concrete wall arranged next to "Mziuri" park. Besides, there were 4 km riverbed cleaning works carried out, and certain section of the river was trapped within the walls of reinforced concrete structure and canal.
100-meter storm water collector was arranged on Guramishvili street in village Tskneti. There was a 205-meter concrete retaining wall arranged for preventing collapse of weathered and disintegrated rocks located in #83 Chavchavadze street adjoining area in Tbilisi.
Moreover, for maintaining stability of uphill residential houses, retaining walls regulating ravine water runoff during heavy rains were arranged in village Akhaldaba.
Today, the Ministry has officially completed the last phase of EIB backed integrated rehabilitation project - - 'Mziuri" park rehabilitation
The flood-ravaged area of Chabua Amirejibi Avenue adjacent landscaped zone and park were fully refurbished.
Mosaics, bridges, stairs existing in the park were completely restored, all types of utility lines, such as wastewater, potable water, irrigation, firefighting and outdoor lighting systems were replaced.
There were bike trails, benches, litter bins, pergolas, potable water fountains, recreational spaces arranged in the park area, zoning signs were placed as well.
Besides, from now on, the park territory is also accommodating an artificial lake, skateboard ground and children's playgrounds.
Tbilisi is to enjoy an additional improved multifunctional recreational zone.
Sporting, cultural, and recreational spaces created in the park will render it more comfortable to all age groups. The refurbished infrastructure is adapted to needs of disabled.
The renovated park "Mziuri" will be transferred to the ownership of Tbilisi City Hall.