Maya Tskitishvili Familiarizing herself with Progress of Marneuli Schools' Rehabilitation-Construction Works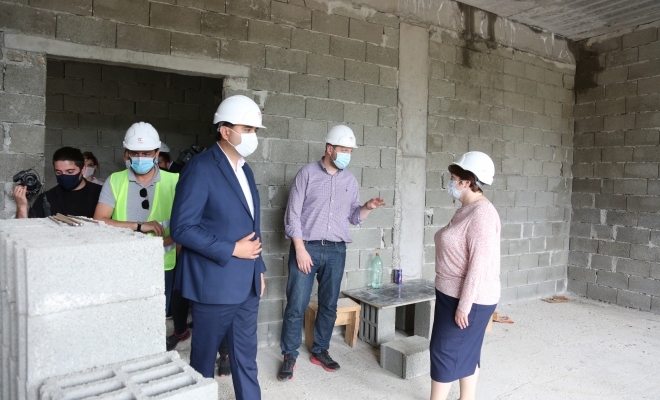 Maya Tskitishvili, Vice-Premier, Minister of Regional Development and Infrastructure of Georgia and Giorgi Shengelia, Executive Director of the Municipal Development Fund of Georgia held an instructional trip for familiarization with school construction-rehabilitation process in Marneuli Municipality.
"Arrangement of educational infrastructure is one of top priorities set by our Ministry. With assistance of the Municipal Development Fund, there are 7 schools under construction in Marneuli and bidding on the 8-th one is to be announced in the near term. The MDF is constructing 59 new schools and rehabilitating over 80 schools throughout the country. This process is partially completed and each project complies with modern school standards, there are classrooms and labs, conference halls, sports grounds, canteens and such other requisite infrastructure arranged," – stated Maya Tskitishvili.
According to her, amount required for school construction-rehabilitation will also be allocated from the Regional Project Fund.
"Last year, we have funded minor repair works for more than 600 schools from the Regional Project Fund and this year too there will be GEL 40 mln allocated for the projects to be undertaken countrywide. There will also be funding available for the projects with focus on such infrastructure as roofing and water closets," – noted Maya Tskitishvili.