Bridge Construction and Road Rehabilitation Project under Completion in Gardabani Municipality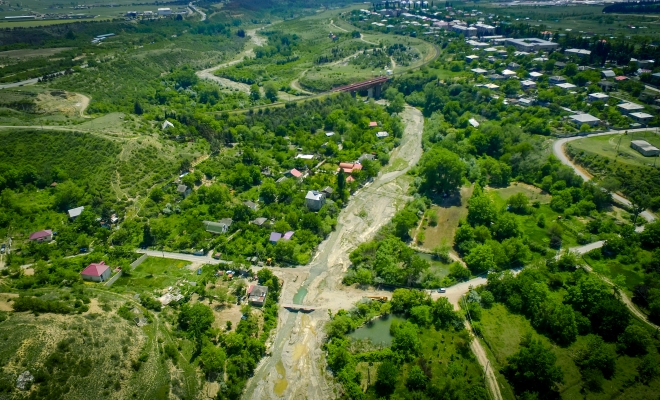 The Municipal Development Fund of the Ministry of Regional Development and Infrastructure of Georgia is implementing the project for road bridge construction over river Lochini and road rehabilitation in Brotseula Settlement of Gardabani Municipality. Cost of the EIB funded project averages GEL 2 million.
For preventing spread of new coronavirus infection, works are performed with strict adherence to special recommendations issued by the Interagency Coordination Board existing under the Prime-minsiter's office and Ministry of Health.
MDF representatives are carrying out monitoring of observance of the named recommendations and labor safety regulations.
The project provides for rehabilitation of the 2,5 km road and construction of the road bridge over river Lochini. The project also envisages arrangement of driveways, concrete drainage channels, connections, lake access and footpaths.
Giorgi Shengelia, Executive Director of the MDF visited the ongoing project site together with representatives of Construction and Consuting Companies.
Before project implementation, the existing road was damaged, which hampered safe conveyance of local population; following project completion, the above-referred problem will be fully solved.