Rehabilitation of Gurjaani Park to be finalized this year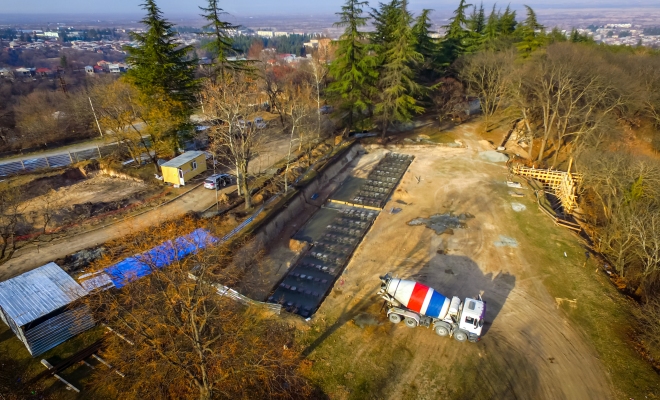 The Municipal Development Fund of the Ministry of Regional Development and Infrastructure of Georgia carries out works for arranging of square and a recreation park in Gurjaani. The project implementation is funded by European Investment Bank (EIB) and its cost amounts to approximately GEL 3.5 million.
The project envisages rehabilitation works for recreation zones, attractions for children, summer movie theatre and an amphitheater throughout the park and construction works for the sports stadium. There are to be arranged also the lighting poles, pedestrian paths and curbs, benches, dust bins and greenery.
Progress of works was inspected on site by MDF Executive Director Giorgi Shengelia along with Gurjaani Majoritarian Deputy Davit Songhulashvili and representatives of Supervision Companies.
Upon project finalization, Gurjaani Municipality will have completely accomplished and multifunctional recreation zone. The park will be divided into sports and cultural areas of various types and will host actively the society representatives and events of sports-cultural character.