Full Renovation and Construction of More than 10 Schools Ongoing in Samtskhe Javakheti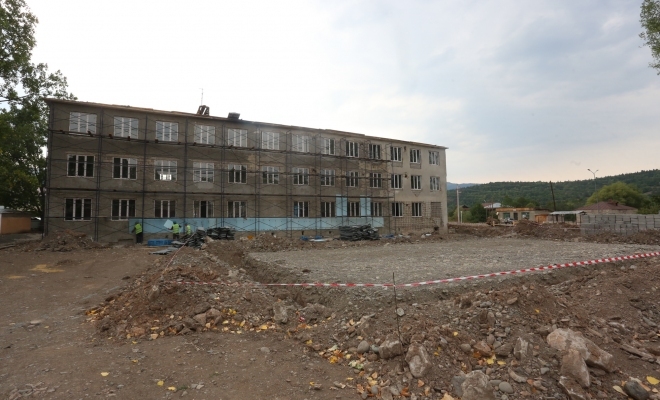 Maya Tskitishvili, Vice-Premier, Minister of Regional Development and Infrastructure of Georgia inspected school rehabilitation works ongoing in Samtskhe Javakheti villages Zarzma and Mokhe.
Zarzma and Mokhe school rehabilitation works, which are part of Educational Infrastructure Rehabilitation Program, are being implemented by the Municipal Development Fund of Georgia operating under the MRDI.
"We visited Village Mokhe school several months ago. The school was actually in a deplorable state. As you may be aware, education has top priority in our Government's policy and this year 65 projects for minor rehabilitation works will be completed in Samtskhe Javakheti scools just by local Municipalities. Besides, the Municipal Development Fund of Georgia is also undertaking capital repair and construction of such village schools. This year, we have 15 school rehabilitation and construction projects in Samtskhe Javakheti. In this wise we are able to enhance quality of education, and also provide for our villagers - children access to such infrastructure, which is required for decent living conditions", - stated Maya Tskitishvili.
Mokhe and Zarzma schools of Adigheni Municipality are designed for 160 pupils and serve several villages. Full renovation of schools involves improvement of classrooms, bathrooms, gymnasiums, sports grounds, and yards. Arrangement of heating, water supply and wastewater systems is planned as well. The schools will be adapted to the needs of disabled. Zarzma school rehabilitation works are in active phase and will be completed by the end of September, while completion of Mokhe school rehabilitation is scheduled in the first months of the year 2020.
GEL 4 million on average are designated by the Regional Development Fund for minor rehabilitation works in the schools of Samtskhe Javakheti Region. Such works are planned in over 30 regional schools and this process will be managed by LSGs. Works will be performed in accordance with priorities set by the Ministry of Education, Science, Culture and Sport of Georgia.