Bakuriani Bypass Road under Active Phase of Construction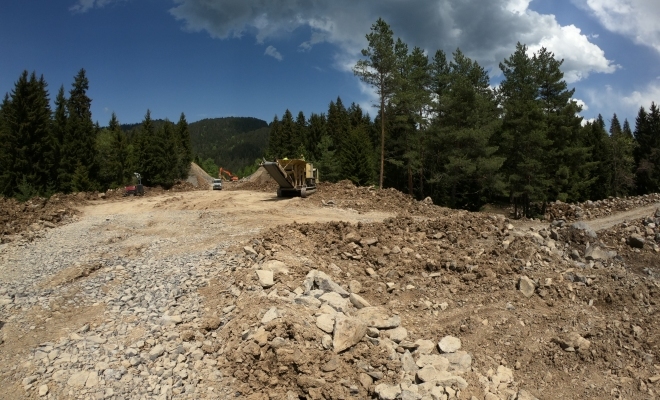 Construction of Bakuriani bypass road undergoes implementation by the Municipal Development Fund (MDF) of the Ministry of Regional Development and Infrastructure of Georgia (MRDI). The project implementation is funded by the European Investment Bank (EIB) and its costs exceeds GEL 6 million.
Executive Director of MDF Giorgi Shengelia inspected the project progress on site.
There is scheduled construction of approximately 3 km road within the project. Absence of the bypass road had been resulting in frequent traffic jams in Bakuriani, impeding comfortable and safe movement of tourists and local residents there. Upon finalization of works the issue will be completely resolved.
Except for construction of the bypass road there are being implemented numerous projects of significant character in Bakuriani, inter alia rehabilitation of the access road to Mitarbi and Kokhta cable ways and parking expansion at Didveli. There is scheduled also the special vehicle to be purchased for Bakuriani, urban renovation to be executed, transport plan to be developed and parking lot, central path and a road to be arranged. Bakuriani Recreation Park is to be rehabilitated as well.
Due to chaotic development of Bakuriani and Gudauri resorts, increased number of holiday makers had not been served appropriately for years. The project planned by MRDI aimed at improving the infrastructure of the resort, serves for existing issues to be regulated.