Construction of IDP Housing Completed in Mtskheta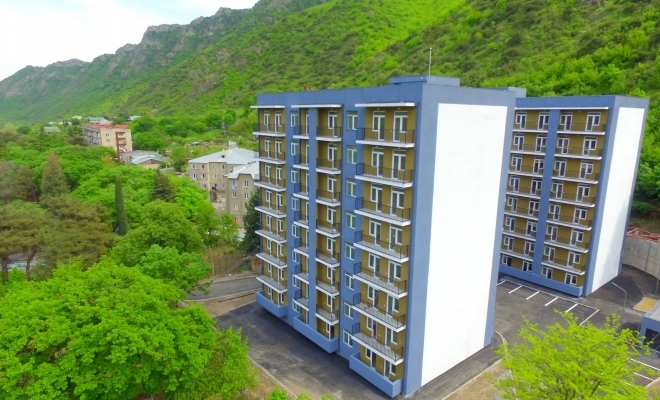 The Municipal Development Fund of Georgia has completed construction of 2 apartment houses for IDPs in Mtskheta. Cost of the Government of Georgia funded project totals GEL 5.5 million. Following project completion, 120 IDP households will be accommodated in new apartment buildings.
Maya Tskitishvili, Minister of Regional Development and Infrastructure of Georgia, Davit Sergeenko, Minister of Internally Displaced Persons from the Occupied Territories, Labour, Health and Social Affairs of Georgia, and Giorgi Shengelia, Executive Director of the Municipal Development Fund of Georgia together with local authorities were visiting the IDP houses located in Mtskheta.
The project envisaged construction of 2 residential buildings, improvement of the adjoining area and installation of outdoor lighting. Both buildings are equipped with parking lots and ramps, roads are paved with asphalt-concrete and drainage systems are arranged. The apartment buildings are fully adapted to needs of disabled.
In addition to the present project, the MDF is also carrying out IDP housing construction works in Kutaisi, Tskaltubo and Zugdidi. Following the above-mentioned project completion, more than 3700 households will avail themselves of housing.
Provision of adequate living conditions for IDPs is one of top priorities set by the Government of Georgia.