Fountain in Tskaltubo Park under rehabilitation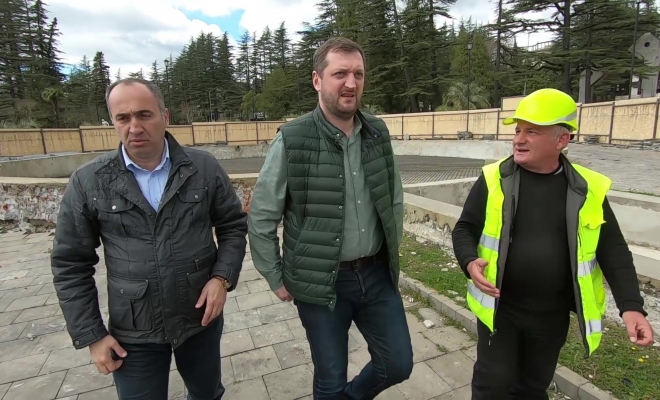 The Municipal Development Fund (MDF) of the Ministry of Regional Development and Infrastructure of Georgia (MRDI) implements rehabilitation of the fountain in Tskaltubo Park of Tskaltubo Town. Executive Director of MDF Giorgi Shengelia along with Tskaltubo Municipality Mayor Grigol Ioseliani visited the site of current rehabilitation works.
The project undergoes implementation with funding from the World Bank (WB) and its cost amounts to approximately GEL 1.6 million. The works envisage rehabilitation/reconstruction of the fountain being in Tskaltubo Park. Nearby site is also scheduled to be improved, fountain is to be lined and the control building to be arranged.
"MDF proceeds with making investments in Tskaltubo. Tskaltubo Park is of high significance from both tourist and recreation standpoints. The fountain rehabilitation project in the park is being proceeded with the support of the WB. The fountain represents the traditional and historical part of the park and final phase of rehabilitation that has been executed by MDF", Giorgi Shengelia noted.
The rehabilitation works are to be completed in summer, 2019.