Internal roads being arranged in villages of Baghdati and Vani Municipalities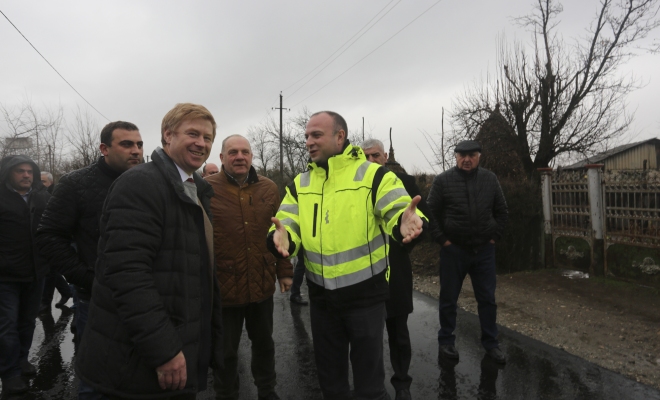 Internal roads of the villages undergo active rehabilitation. The Municipal Development Fund (MDF) with the European Investment Bank (EIB) financing implements rehabilitation of up to 4 km section on Rokhi and Salominao linking vehicle road in the villages of Baghdati and Vani Municipalities.
Minister of Regional Development and Infrastructure of Georgia Zurab Alavidze inspected progress of works together with the EIB Regional representative Sebastien Husson de Sampigny and local authorities. Mr. Alavidze was familiarized with the condition, being on internal roads of the villages and listened to the problems of local residents.
There will be spent over GEL 1 million for road infrastructure regulation purposes. Two sections of Village Rokhi and Village Salominao Road are to be restored wholly. At present stage, two-layer asphalt pavement is being laid and drainage canals of soil and reinforced concrete ditches are to be arranged there too.
The works are to be finalized in spring to enable the local population to convey on roads in a safe and comfortable manner.