Ropeway Rehabilitation Works Commenced in Chiatura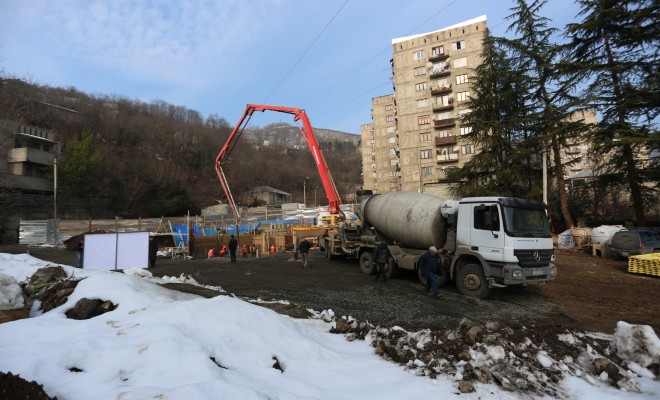 On the instructions of the Government of Georgia, the Municipal Development Fund of the Ministry of Regional Development and Infrastructure of Georgia has commenced rehabilitation and reconstruction works for the passanger ropeway transport systems and stations existing in town Chiatura. The project is funded by the Governments of Georgia and France and its total cost averages GEL 40 mln. The Minister of Regional Development and Infrastructure of Georgia – Zurab Alavidze, Governor of Imereti Region – Givi Chichinadze, and Executive Director of the Municipal Development Fund of Georgia – Galaktion Buadze were visiting Chiatura for inspection of construction works.
In Chiatura, ropeway is one of the main means of conveyance, which has been serving the town since 1954. It is remarkable that it was the first passenger ropeway in the Soviet Union. Back in the nineties of past century, the existing lines and cars were already unable to meet current demand, and moreover, due to long period of their operation they were unsafe for the passengers, therefore operations of the passenger ropeway were suspended in 2016 and the town distinguished by its hilly relief, which except for its local population hosts a great number of tourists was left without this transport facility.
Supply of the revers- type gondolas was provided by the French Company "Pomagalski. Road length is 3428 meters and 8 modern gondolas were purchased for these lines .
At the current stage, one central station and 3 lines outgoing from this station: Sanatorium (862 m), Naguti (1081 m) and Lezhubani (845 m) are undergoing rehabilitation works. Design works are currently in progress for the 4-th line - Mukhadze (640 m).
Thousands of passengers will have an opportunity to travel safely and comfortably by an eco-friendly, new ropeway transport.