Renovated Batoni Palace opening in Telavi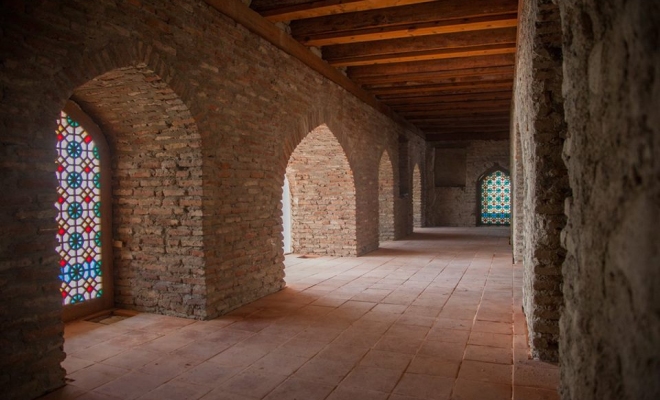 Restoration of Erekle II Palace has been finalized. Renovated Batoni Palace was opened by Minister of Regional Development and Infrastructure of Georgia. Opening Ceremony was attended by Minister of Culture of Georgia Mikheil Giorgadze, World Bank Regional Director for the South Caucasus Mercy Tembon, First Deputy Minister of Regional Development and Infrastructure of Georgia Ilia Darchiashvili, Executive Director of Municipal Development Fund of Georgia Juansher Burchuladze, Governor of Kakheti Region Irakli Kadagishvili, Mayor of Telavi City Platon Kalmakhelidze, Director General of National Agency for Monument Protection Nikoloz Antidze and other officials.
Rehabilitation of Erekle II Palace was executed by Municipal Development Fund of the Ministry of Regional Development and Infrastructure of Georgia with financing of the World Bank and Government of Georgia within the Regional Development Project.
The aim of the project is maintenance of original image of the monument and assistance to tourism development in Kakheti Region. With the efforts of the Municipal Development Fund restoration of Batoni Palace was conducted in full compliance with authenticity keeping. The referenced project was prepared in coordination with the Cultural Heritage Agency.
There were installed the columns of the balconies on the territory of the Palace, plastering works by applying of lime were conducted as well. The corridors and floors of the Hall were faced with brick and Georgian stone. Stained glass windows were installed and street lighting was arranged. The cost for rehabilitation of the Palace amounted to GEL 1 871 893. The Museum of Batoni Palace in the yard of the Palace also undergoes rehabilitation. It should be noted that an Exhibition Hall was added to the Museum Building. The walls are already arranged and roofing works are under progress. Rehabilitation works for the Museum Building are scheduled to be finalized in spring 2017. The project Cost amounts to GEL
5 000 000.